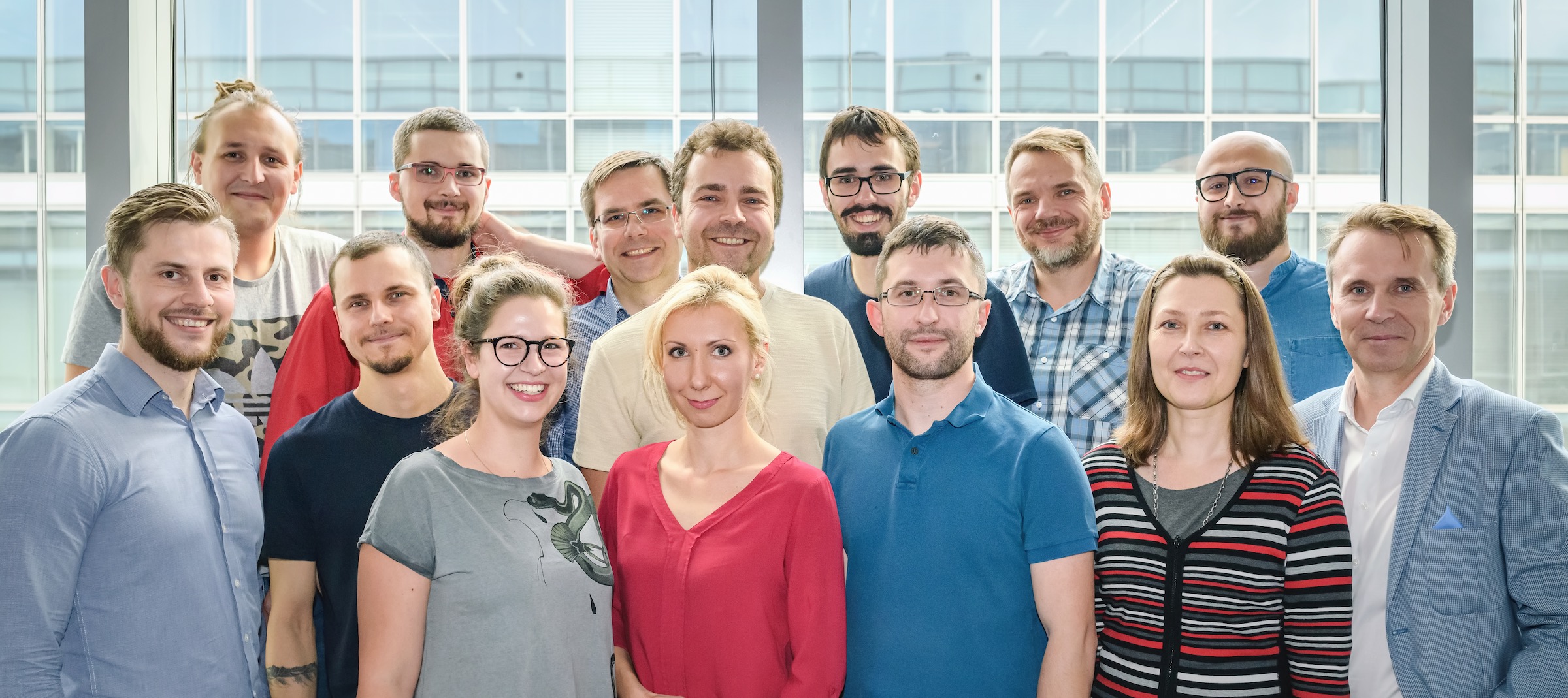 Lukasz Osowski

CEO, founder

Tomasz Noinski

Chief Technology Officer, founder

Piotr Wisniewski

PhD, MD
Chief Medical Officer, founder
Lukasz founded IVONA: Text To Speech technology company. He led IVONA to become world's leader in quality of TTS voices, used by 100M+ people now. He sold IVONA to Amazon and served as CEO of Amazon Development Center in Poland since 2012. He was on of the  first employees developing Amazon Alexa/Echo. He holds multiple technology patents.
Tomasz has a total 13 years of industry experience. Worked at Google for 6 years as a Site Reliability Engineer, Tech Lead of the team responsible for keeping Gmail up. He then moved to Amazon and worked there for over 5 years as a Software Development Engineer and Software Development Manager, improving the Amazon state of the art Text-to-Speech engine.
Physician, researcher and academic teacher at the Medical University of Gdansk, double board certified in Internal Medicine and Endocrinology. He practices in both ambulatory and hospital setting where has successfully deployed several new services for patients.  He takes an active role in teaching resident physicians and fellow endocrinologists.  During over 15 years of practicing medicine he has found out that modern medicine places too little emphasis on prevention and healthy lifestyle promotion.

Beata Jackowska

Assoc. Prof., PhD, MSc 
Senior Modeling Specialist

Piotr Bandosz

PhD, MD
Senior Modeling Specialist

Jacek Ruminski

Assoc. Prof., PhD, MSc
Senior Science Advisor
Researcher and lecturer in the Department of Statistics of the University of Gdansk since 1994 and a member of the Committee of Demographic Studies of the Polish Academy of Sciences since 2016. Her research work focuses on demographical, statistical and survival analysis methods as well as their applications in the analysis of mortality and in the assessment of economic and social risk (e.g. insurance risk, risk of business' closure). The mainstream of her research is constructing mortality models in cross-sectional and cohort studies and identification of factors influencing the distribution of lifetime.
Physician, researcher and academic teacher. Experienced in design of epidemiological studies and models. More than decade of clinical experience as hospital physician, internal medicine and diabetology specialist. Author of several scientific papers related to risk factors of cardiovascular diseases and future projections of noncommunicable diseases mortality and morbidity, total impact factor 213. Researcher and teacher at the Medical University of Gdansk and researcher at the University of Liverpool.
Researcher, engineer and teacher in the field of informatics and biomedical engineering. Academic background includes MSc in medical devices, PhD in healthcare informatics and DSc in biocybernetics and biomedical engineering. Since 1995 professionally related with Gdansk University of Technology. Author of more than 200 scientific book chapters, articles and conference papers. Practical experience in medical imaging, human system interaction, wearable technology, healthcare information systems, and machine learning.

Jakub Trzebiatowski

Software Development Engineer

Kamil Rykowski

Software Development Engineer

Robert Różański

Senior Applied Scientist
Graduated from Gdansk University of Technology. Worked at Amazon Gdansk Development Center for more than one year as a Software Development Engineer Intern. His team was developing a core TTS framework and improving the language model development process. Personally a computer science and software engineering passionate.
Software Engineer associated with web and mobile technologies since 2009. Experienced in whole cycle of software development and iterative way of building end products. Worked at various sized companies starting from small startups up to the big names like Intel Corporation. Publicly sharing his knowledge during workshops and technical oriented conferences. Organizer and speaker at local Flutter meetup. Active open source contributor. 
Machine Learning specialist and applied scientist. Academic background includes BSc and MSc in Biotechnology (Intercollegiate Faculty of Biotechnology of UG & MUG), BA in Philosophy (University of Gdańsk) and a PhD in Computer Science (University of Manchester). Since 2017 involved in R&D projects for industry. In spare time, popularises the use of ML by collaborating with researchers from the Medical University of Gdańsk as well as by participating in local tech communities: MLGdańsk and Hackerspace Tricity.

Monika Janta

UX Designer 

Artur Macholla

UI Designer

Anna Słomkowska

Health Writer&Coach
Graduated from SWPS University (Psychology and UX Design). Handles user research and designs experiences according to human centered design. Previously worked for third biggest Norwegian publishing house researching and optimizing ecommerce and designing digital products for education.
Multidisciplinary designer specializing in UI design with 10 years of experience in working with businesses, startups and brands. Using design thinking to find best solutions. Degree in IT and Arts. Passionate about everything design, space exploration and technology. 
Comprehensive diet consultant & coach more then 13 years experience. Graduated from the the Nicolaus Copernicus University in Toruń, Public Health. Specialises in health education, dietary treatment of the overweight, obese and comorbidities, as well as dietary support for athletes. For many years, she has been collaborating as a consultant with a foundation for cancer patients. Writes articles on health, gives lectures, participates in health projects and gives expert opinions within the health sector. Additionally, she deals with implementing pro-health policy in Lab4Life.

Rafał Krzemianowski

Finance Manager 
 
 
Project Manager and financial settlement professional. Graduated from The Catholic University of Lublin, where in 2016 has accomplished The Interdisciplinary PhD Studies. Purdue University intern (2014).
Since 2010 worked in numerous R&D projects. In 2017 his professional focus shifted towards management of projects regarding start-ups acceleration.